Ghost is taking the content management world by storm these days. This simple but powerful platform is allowing people from all walks of life to create and publish amazing stories.
While Ghost is awesome, to truly unlock its power you need to pair it with a reliable hosting provider. There are just so many options out there now it can feel overwhelming trying to choose the best one.
That's why we put together this list of the top 10 Ghost hosting platforms around right now. Whether you're just starting out or running a large publication, with this handy guide you'll have an easier time finding a plan that fits your needs without breaking the bank.
What is Ghost Hosting?
Alright, so in simple terms - Ghost hosting just means finding a place online to park your Ghost website.
When you set up a self-hosted Ghost blog, it needs to live somewhere on the internet for people to actually see it. That "somewhere" is what we call a hosting provider.
These companies basically let you rent out space on their servers so your site has a home. Without hosting, your Ghost site is kinda like a house without land - it has nowhere to exist!
Some key things all Ghost hosting will give you are:
File storage: Space on their servers to hold all your blog files and images.
A domain name: Usually you'll get a .com address like yourblogname.com included.
Bandwidth: Enough juice to serve up your site to visitors without it loading like molasses.
Updates: They'll take care of keeping your Ghost install updated to the latest version.
Security: Their servers are protected so hackers can't mess with your site.
So in a nutshell, Ghost hosting is what puts your site in cyberspace! It's the backbone that lets the whole thing exist online.
Top 11 Ghost Hosting Providers
Ghost Hosting Platform #1: BlueHost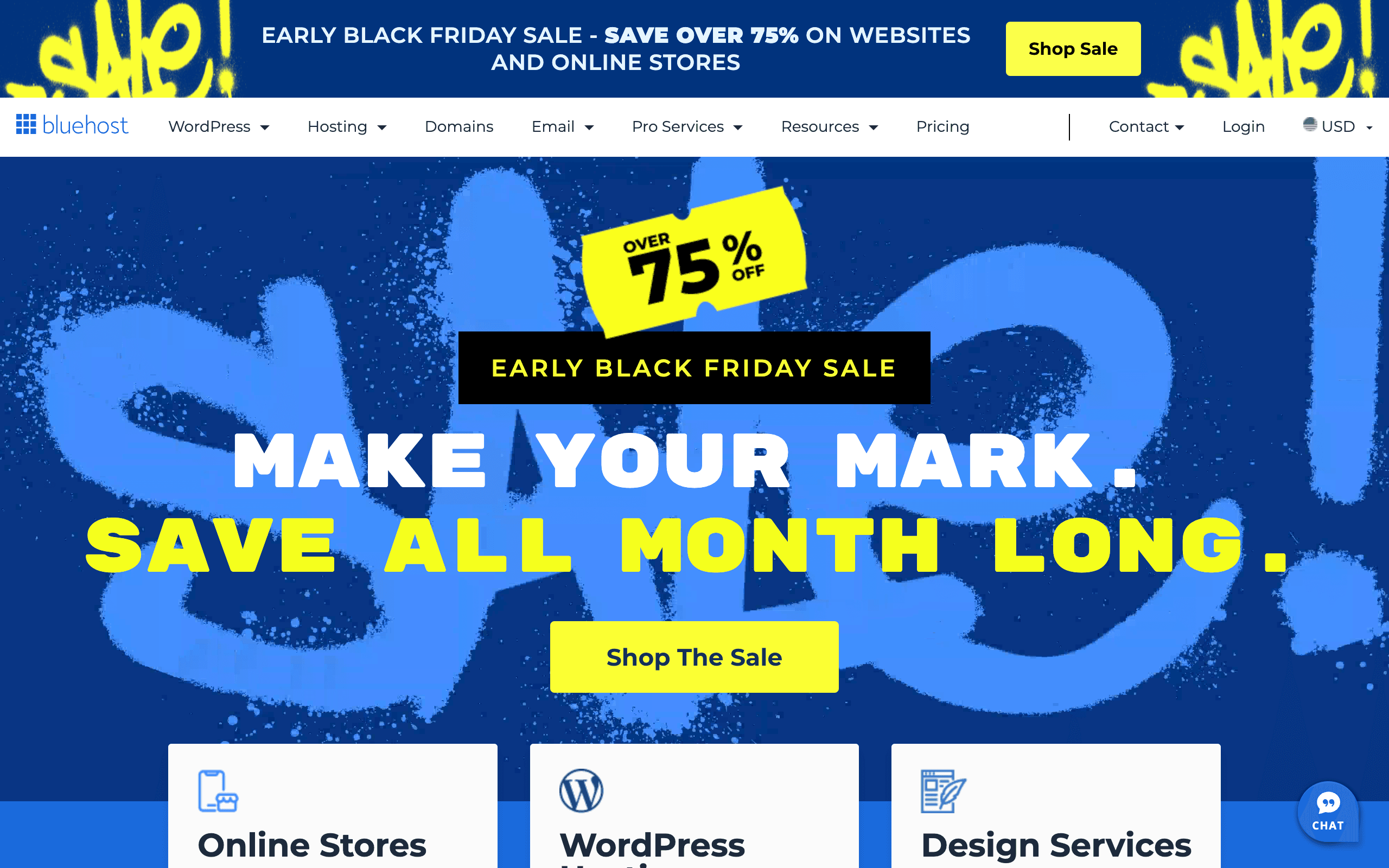 Bluehost has been hosting websites for over 20 years and provides a variety of Linux hosting plans like shared hosting, VPS servers and dedicated options. These hosting solutions give users the flexibility and power to self-host sites, apps and CMS platforms like Ghost. They offer powerful servers and network infrastructure to ensure sites run quickly and smoothly. Bluehost plans start at around $3 per month for a basic shared hosting account, which allows for one domain and reasonable resources that would work well for simpler personal blogs or small Ghost sites.
Key Features:
Unlimited storage, bandwidth and sites
Scalable VPS and dedicated options
Easy cPanel control panel
Free domain name for a year
24/7 phone, chat and ticket support
Automatic daily backups
Flows Not Dealbreakers:
No pre-built Ghost install button
Minor slowdown possible during peak usage
Self-hosting requires some technical skills
Pricing:
Basic Plan: $2.95/month
Plus Plan: $5.95/month
Choice Plus Plan: $5.95/month
Pro Plan: $13.95/month
Ghost Hosting Platform #2: Ghost(Pro)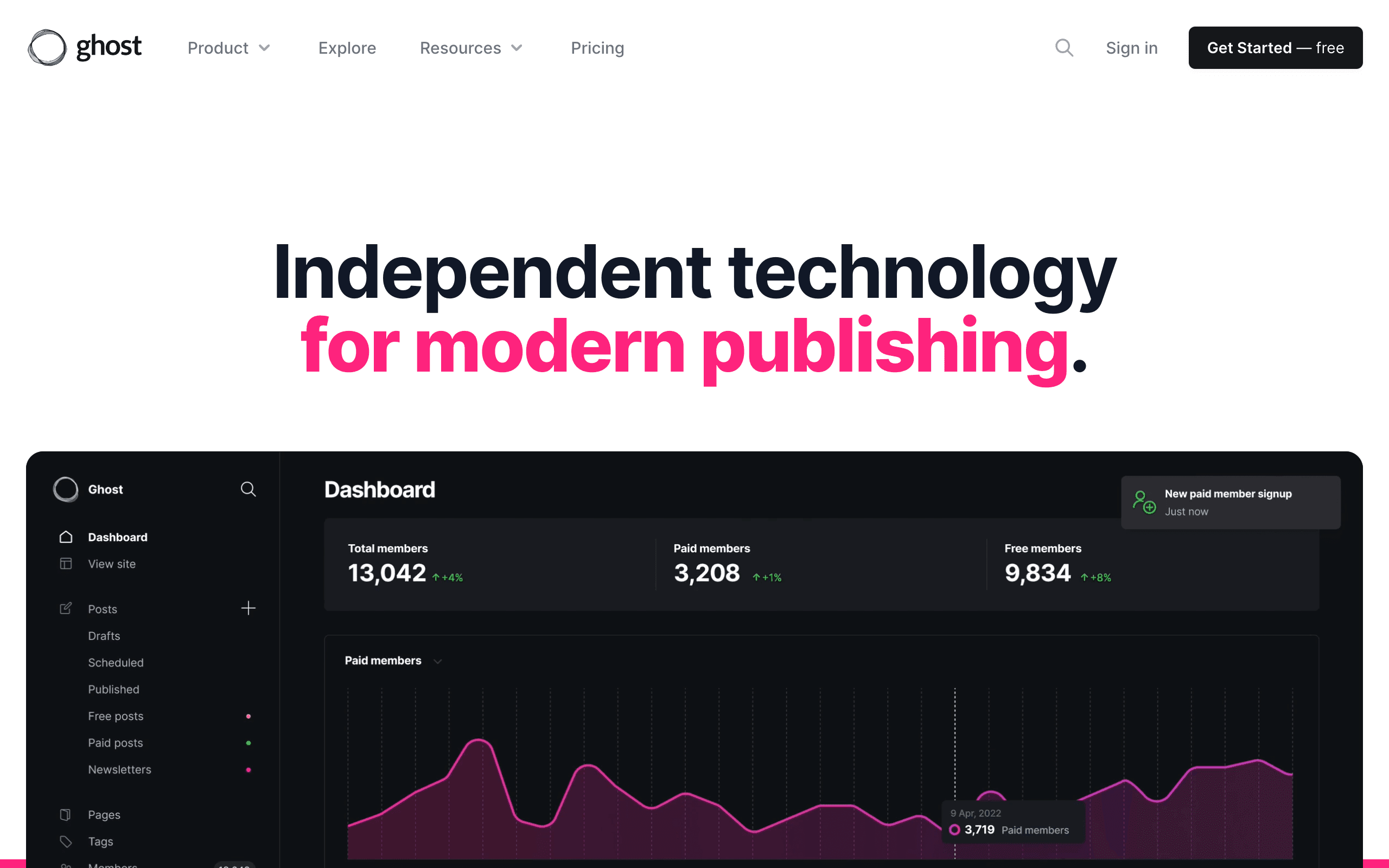 Ghost is a hosting platform specifically designed to work with the Ghost content management system (CMS). Developed and maintained by Ghost Foundation, it gives an all-in-one hosting solution for publishers, bloggers and writers to build and host their Ghost websites. Overall, Ghost hosting provides a seamless hosting solution to users of Ghost CMS hosting, from beginners to professionals. Their starter free plan is good to test things out. This host web hosting provides an end-to-end platform tailored towards modern independent publishers, bloggers and content creators to develop, manage and monetize their online presence using the popular Ghost publishing platform.
Key Features:
One click Ghost install
Automatic updates to latest Ghost version
Custom domains included
Unlimited storage, bandwidth and users
24/7 live chat support
Flows Not Dealbreakers:
Limited free plan for starters
Shared hosting on starter plans
Pricing:
Starter Plan: $9/month
Creator Plan: $25/month
Team Plan: $50/month
Business Plan: $199/month
Ghost Hosting Platform #3: Firepress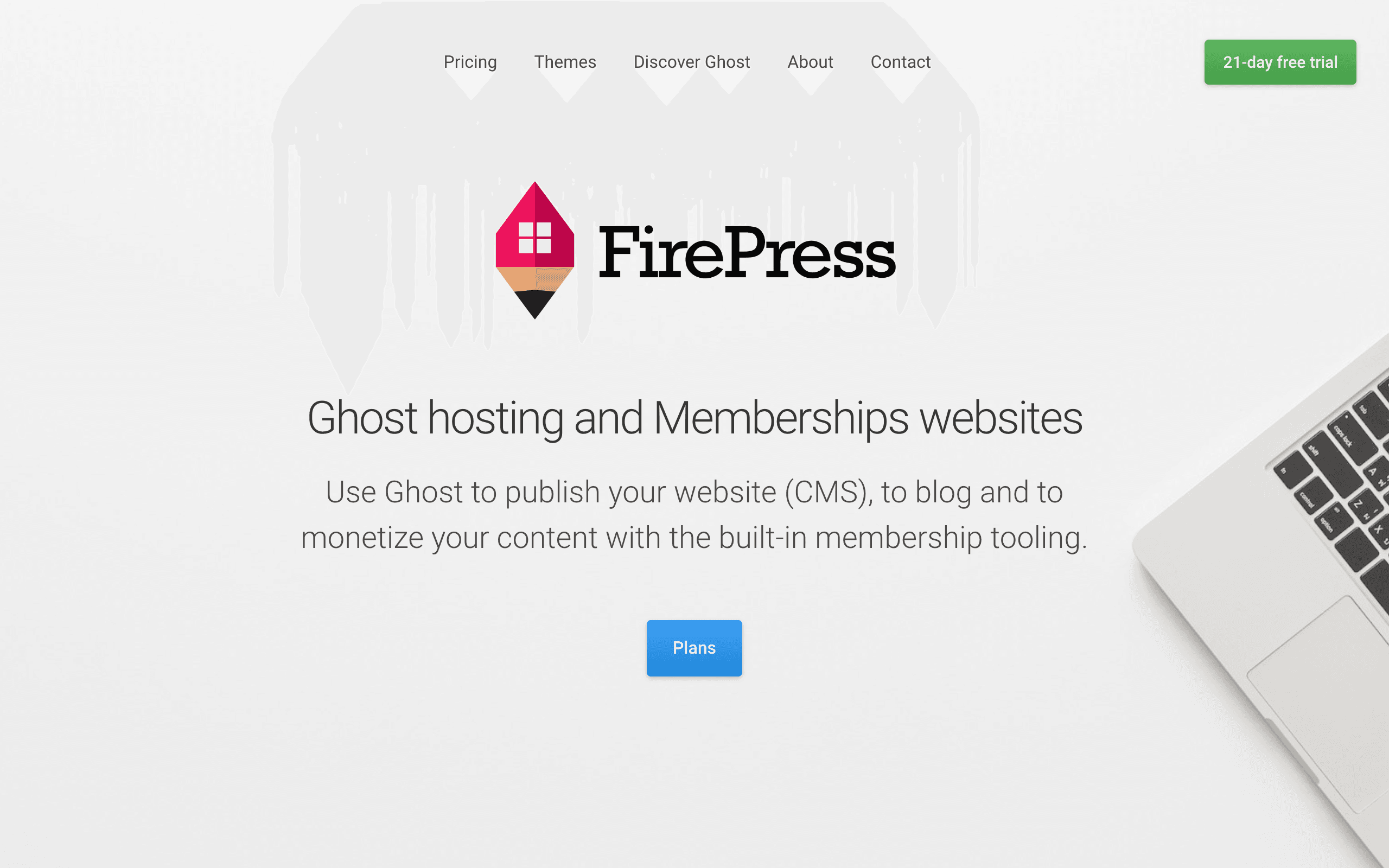 FirePress is a hosting platform that provides an all-in-one solution for users to build and manage their Ghost blog hosting, including blogging, building memberships and processing payments. It aims to cover all aspects of running a modern independent publication through hosting, themes, and membership/subscription tools integrated with Ghost hosting website. Some of its key features include one-click Ghost install, unlimited storage, custom domains, Stripe integration for payments and built-in newsletter. FirePress provides a comprehensive hosting solution for Ghost users to build full-fledged online publications with community features and monetization options integrated within the platform.
Key Features:
Ghost & memberhsip tools integrated
One-click Ghost install
Unlimited storage, bandwidth and users
Custom domains support
Stripe payment integration
Flows Not Dealbreakers:
Limited free trial plan
No 24/7 customer support
Pricing:
Trial: free for 21 days
Monthly Plan: $19/month
Yearly Plan: $190/year
Ghost Hosting Platform #4: FastComet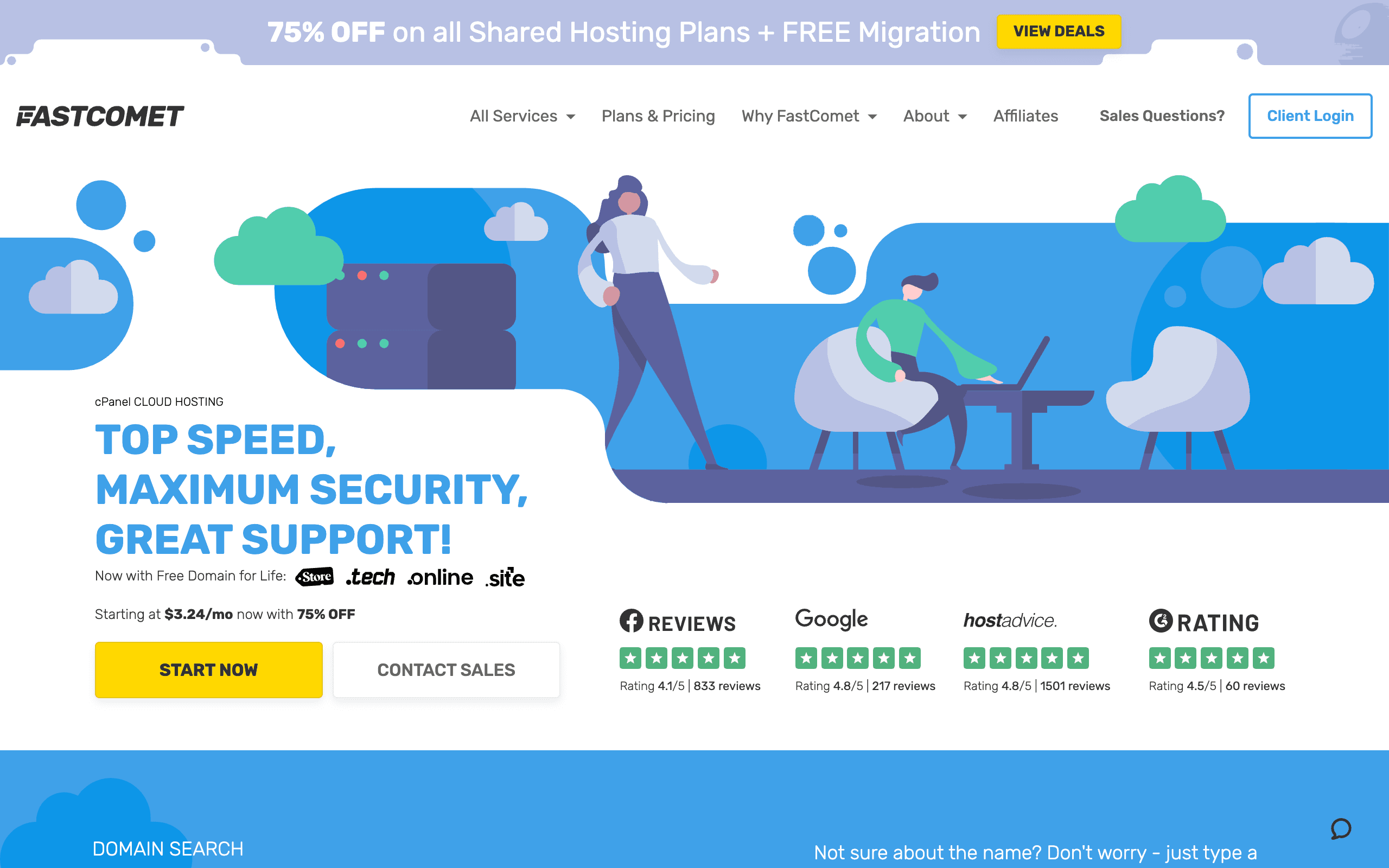 FastComet is a managed cloud hosting provider that offers shared hosting, VPS, dedicated servers and other products like domains, SSL and more. They provide a full-stack hosting solution with support from their multiple data centers worldwide. Some of their key features include one-click app installs, free bundled services like backups and CDN, high performing cloud infrastructure, and award-winning support.FastComet offers reliable and high-performance cloud hosting with great support for people and businesses of all sizes. Their wide selection of plans is budget friendly too. So this is definitely the ultimate Ghost website hosting to try out.
Key Features:
SSD cloud servers for speed
24/7 award-winning support
Free security, backup and CDN bundled
One-click app installer
CDN optimized for performance
Flows Not Dealbreakers:
Server management not unified
Plans don't include 24/7 phone support
Pricing:
1. Shared Hosting:
FastCloud Basic Plan: $10.95/month
FastCloud Plan: $16.45/month
FastCloud Extra Plan: $21.95/month
2. Cloud VPS Hosting:
Cloud 1 Plan: $65.95/month
Cloud 2 Plan: $76.95/month
Cloud 3 Plan: $98.95/month
Cloud 4 Plan: $153.95/month
3. Dedicated CPU Servers:
DS 1: $152.95/month
DS 2: $158.95/month
DS 3: $251.95/month
DS 4: $383.95/month
Ghost Hosting Platform #5: DigitalPress
DigitalPress is Ghost hosting free platform that lets anyone create a beautiful blog in just a few clicks. They provide free and unlimited web hosting powered by Ghost blog hosting so you can focus on writing without worrying about technical stuff. Some key features include free custom domain, unlimited storage, plugins and themes, built-in commenting tools and analytics.DigitalPress is perfect if you want a stress-free way to start blogging free of cost. Their free plan lets anyone set up an online presence with a Ghost hosting website. So you can browse Ghost blog examples right now and get started.
Key Features:
Free blog hosting forever
Unlimited themes, plugins, storage
Built-in comments and analytics
Free custom domain name
Simple one-click install
Flows Not Dealbreakers:
Supported by ads on free plans
Limited customization on free tier
Pricing:
Absolutely Plan: free
Starter Plan: €6.90/month
Standard Plan: €12.90/month
Premium Plan: €25.90/month
Ghost Hosting Platform #6: Midnight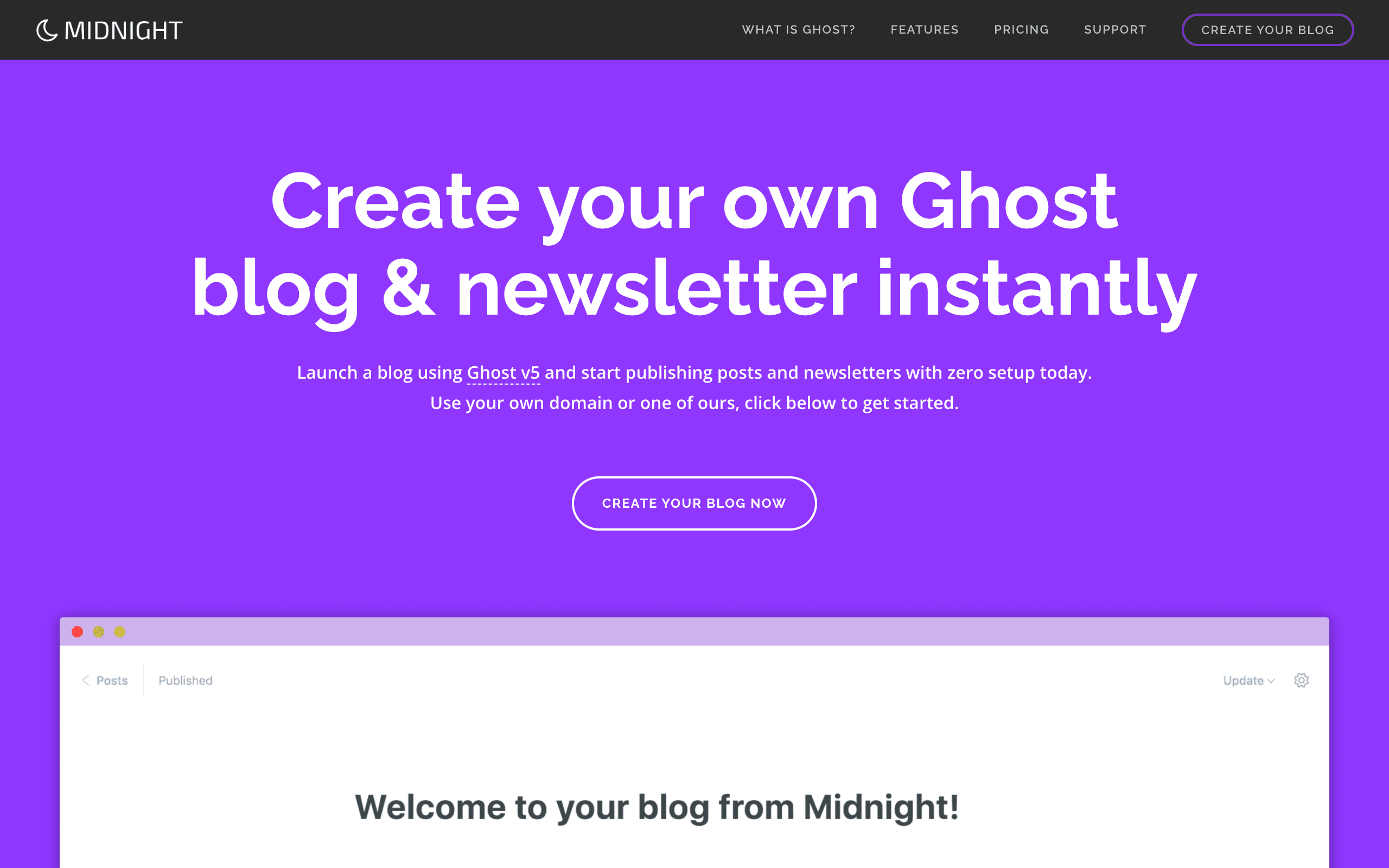 Midnight is a free Ghost hosting service that makes it super easy to set up and run a Ghost blog. They offer a fully pre-configured Ghost installation without any technical setup needed. Some key features include automatic updates to the latest Ghost version, free SSL certificates, daily backups, chat and email support, and lighting fast SSD servers.Midnight removes all the headaches of Ghost website hosting so you can focus on writing. It's a cost-effective option for bloggers and publishers who want a stress-free Ghost experience without technical hurdles. This is the best hosting for Ghost out there. Definitely worth trying to understand if it fits your need, considering that this is the best free ghost hosting. Well, free trial.
Key Features:
One-click Ghost blog install
Daily automated backups
Free custom domain name
SSD servers for speed
24/7 live chat support
Flows Not Dealbreakers:
Limited free trial
Customization via code not allowed
No phone support
Pricing:
Standard Plan: €12.90/month
Premium Plan: €25.90/month
Ghost Hosting Platform #7: MagicPages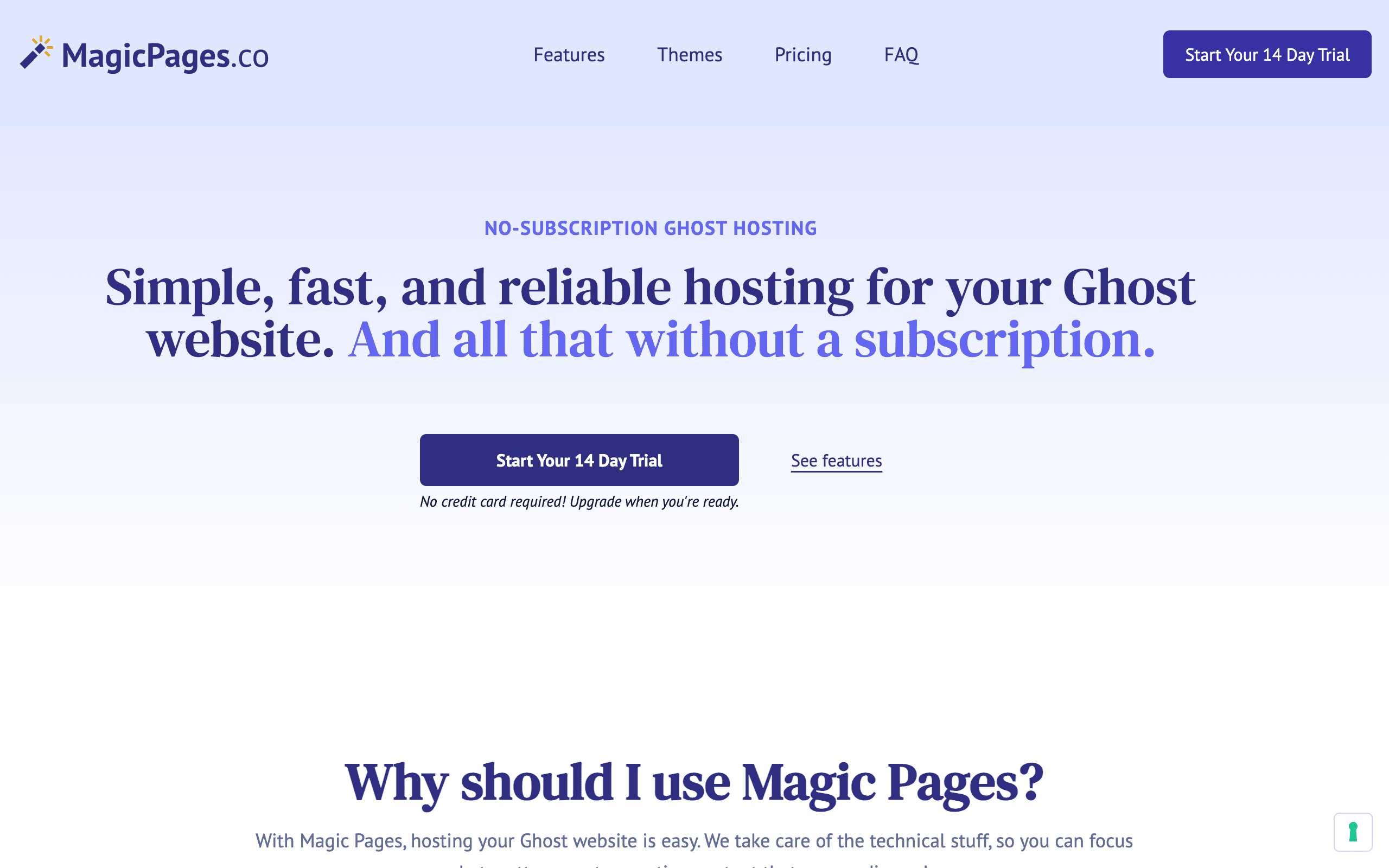 MagicPages is an all-in-one solution that makes it dead simple to launch beautiful blogs and websites with Ghost - no coding or tech skills needed. They handle everything behind the scenes so you can focus on your content. You get unlimited storage, publishing tools and a slick editor in their pre-built themes. In summary, MagicPages removes all the technical hassle so content creators can focus on what really matters - telling their stories. It's an affordable one-time investment for the Ghost hosting novice.
Key Features:
One-time $349 lifetime payment, no monthly fees
10,000 emails monthly included
Free custom domain or their subdomain
Exclusive custom designed themes
Automatic updates and backups
Live chat support 24/7
Flows Not Dealbreakers:
Not ideal for e-commerce
Limited ways to customize design
Trial period is only 30 days
Pricing:
Magic Pages Lifetime Deal: $349 one time
Ghost Hosting Platform #8: Gloat Host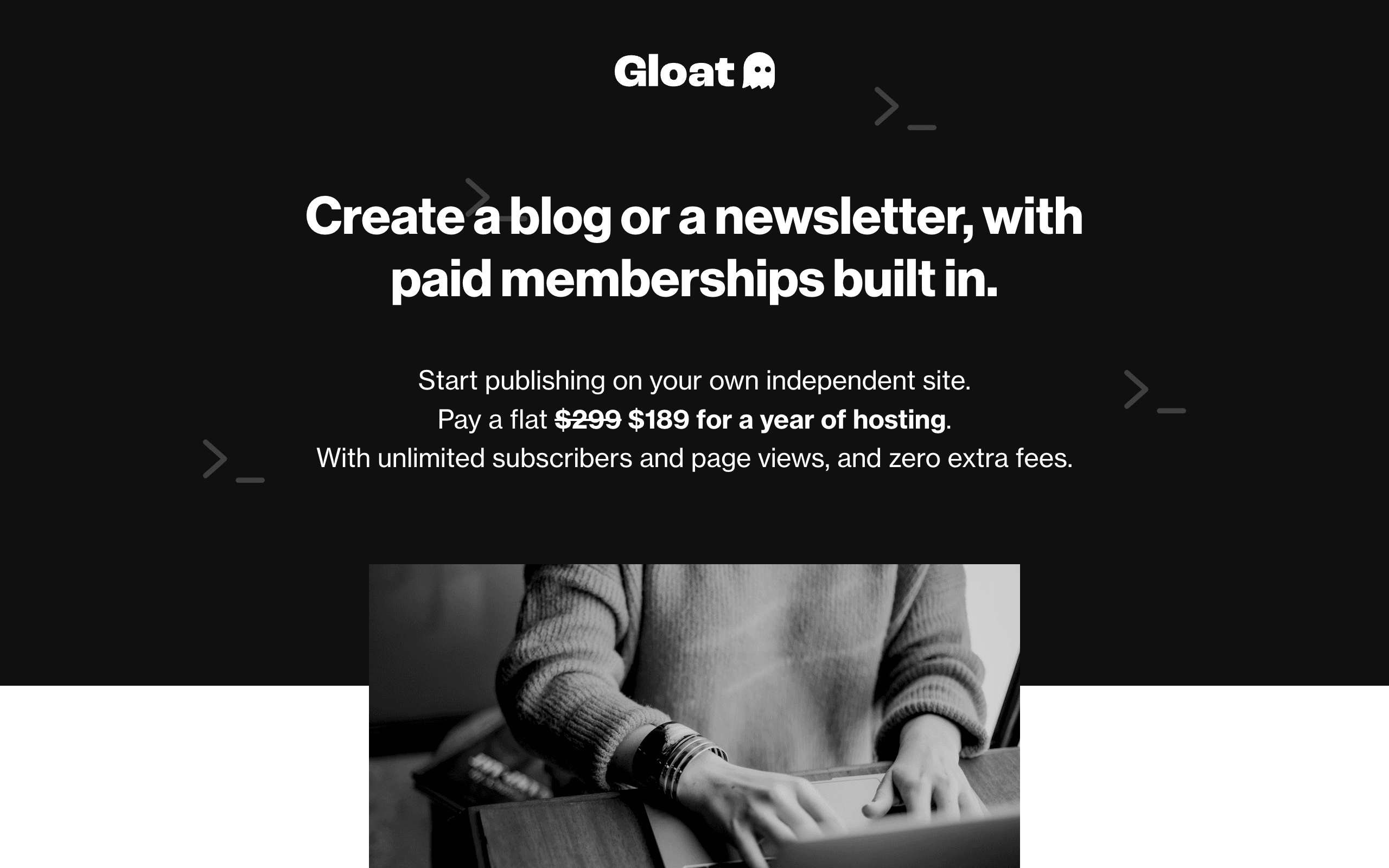 Gloat makes it super easy to get up and running with a slick Ghost blog or newsletter site without any of the annoying technical stuff. They offer pre-built Ghost installations that you can customize with your own domain and content. Gloat handles the backend hosting, updates and support so you can focus on writing. In summary, if you want an affordable, no-fuss way to publish content with Ghost, Gloat is a great option. The simple pricing removes all the pesky technical barriers.This platform truly deserves to be in our list. So, trust us, it's one of the best choices.
Key Features:
Unlimited storage, pages, subscribers
20,000 emails monthly included
One-click Ghost install
Free custom domain setup
Weekly software updates
Live chat support
Flows Not Dealbreakers:
No ecommerce options
Manual install process takes 24 hours
Server locations limited to US/Europe
Pricing:
Monthly Plan: $29/monthly
Yearly Plan: $399/yearly
Ghost Hosting Platform #9: DigitalOcean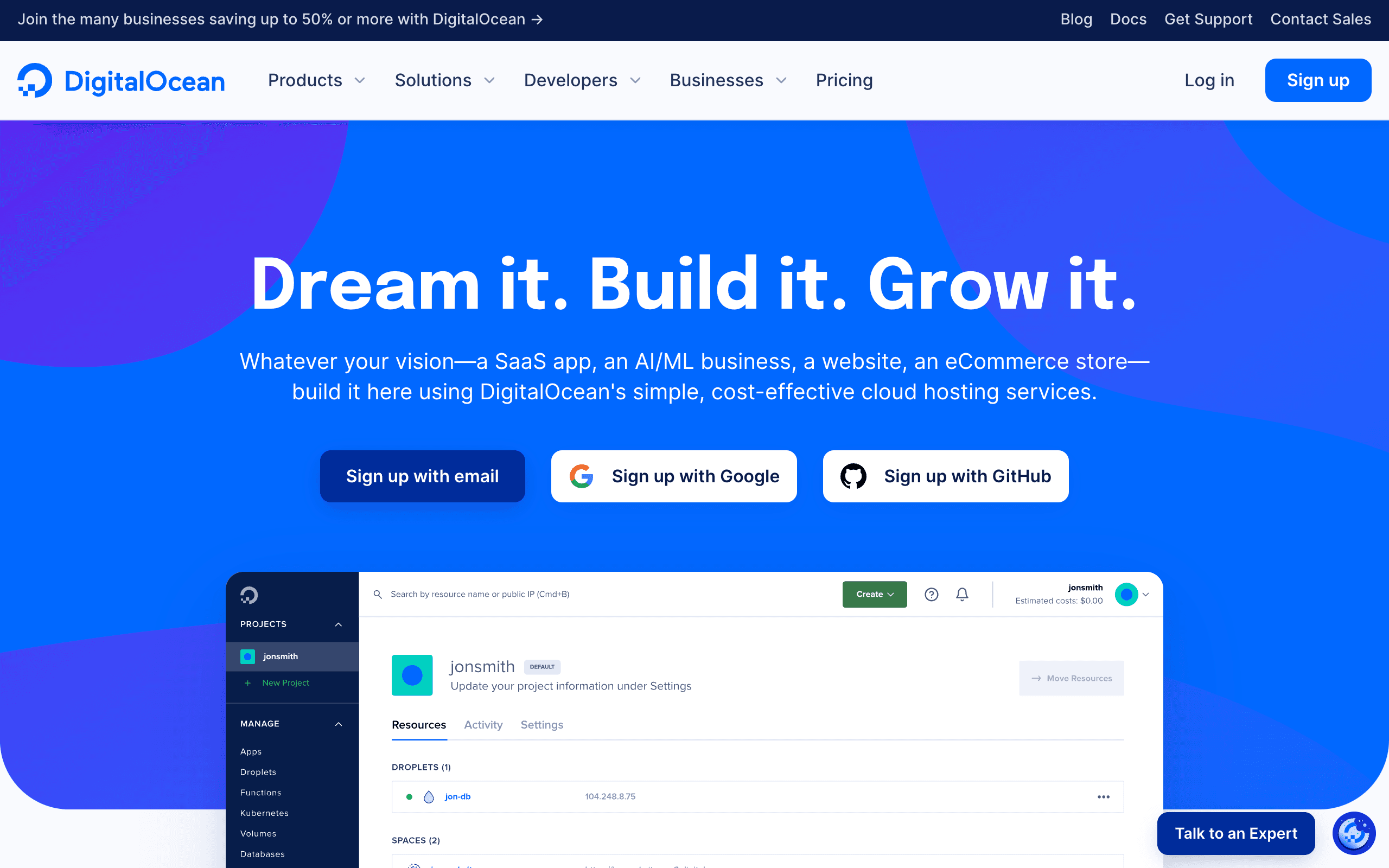 DigitalOcean is a Ghost hosting free platform that makes it super easy to setup and manage virtual private servers, known as Droplets. You can use these droplets to self-host Ghost blogs and sites without any fuss. They offer super affordable monthly plans starting at $4 that give you full control and flexibility. DigitalOcean handles the global cloud infrastructure so you can focus on developing. This is a budget friendly way to host Ghost if you don't mind managing the infrastructure yourself and don't need fancy features. Great for developers and DIY people, too. Whatever your dream — be it a SaaS application, an AI/ML venture, a website, or an online store — you cab create it with DigitalOcean's straightforward and affordable cloud hosting solutions.
Key Features:
Customizable virtual servers (Droplets)
Scalable resources on demand
24/7 support and community help
Auto backups and software updates
Worldwide data centers
Credit card or PayPal billing
Flows Not Dealbreakers:
Self managed hosting requires technical skills
No pre-built Ghost installs
Bare metal servers, no PaaS features
Pricing:
Droplets Plan: $4/monthly
Kubernetes Plan: $12/monthly
App Platform Plan: free
Ghost Hosting Platform #10: A2 Hosting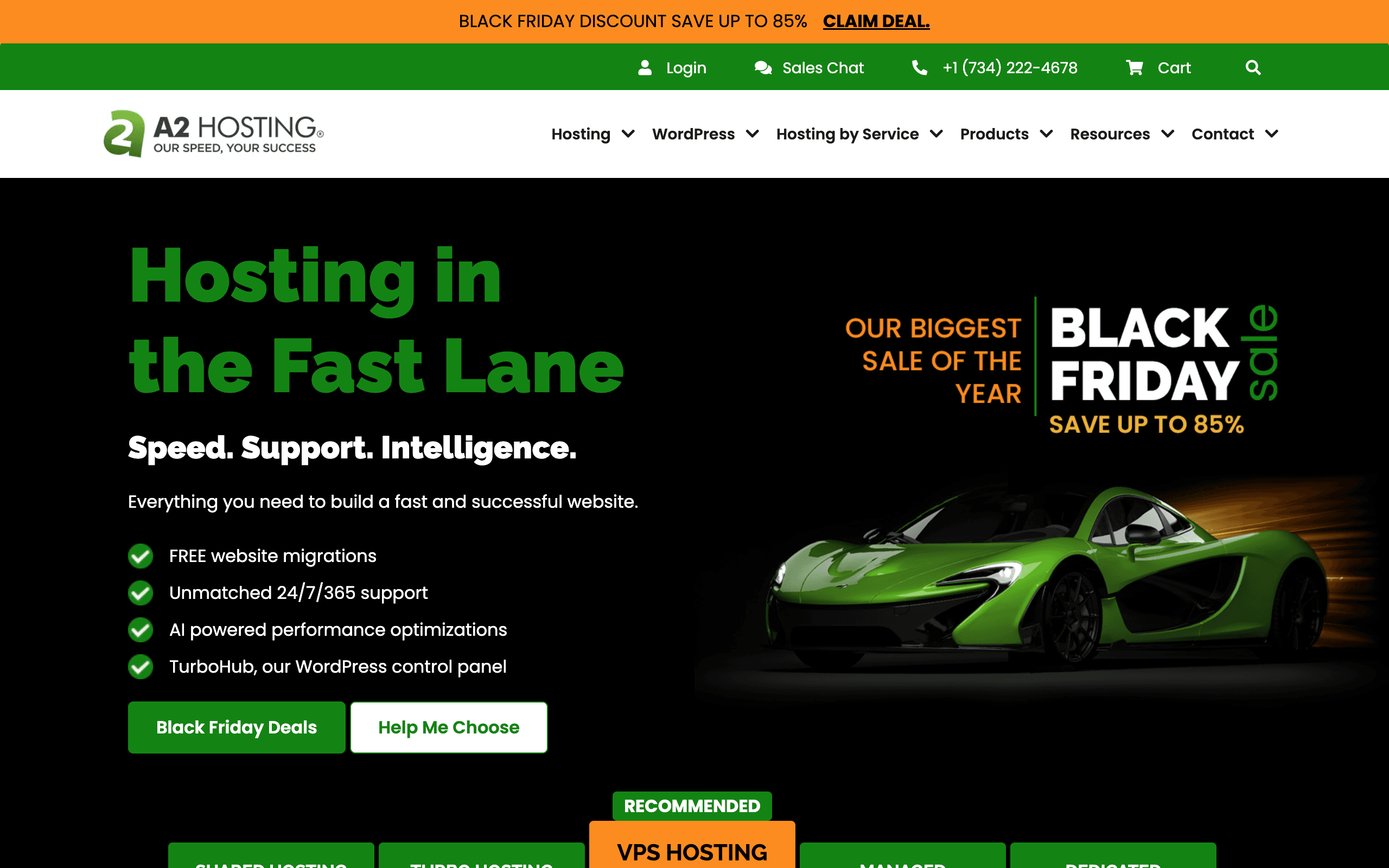 A2 Hosting is the best hosting for Ghost that provides different hosting plans like shared, VPS, dedicated servers and more to set up blogs, websites, ecommerce stores using platforms like WordPress or Ghost. Their servers are super fast and optimized to boost site speed. They make hosting simple with features like one-click apps and a helpful support team. A2 Hosting is a good budget choice for technical folks looking to self-hosting Ghost. Beginners may find their tools and support helpful to get started too. Speed is definitely their big selling point! This platform is all about sped, support, intelligence. This is a Ghost self hosting with literally everything you need to build a fast and successful website.
Key Features:
Up to 20x faster site speed
24/7 support through phone, chat or tickets
Free domain registration, SSL, site migrations
Scalable resources for growth
Simple control panel with cPanel
Flows Not Dealbreakers:
No pre-built Ghost install option
Self-hosting requires technical skills
Limited server locations in US only
Pricing:
Shared Hosting Plan: $2.99/monthly
Turbo Hosting Plan: $5.99/monthly
Managed VPS Plan: $35.99/monthly
Managed WordPress: $9.99/monthly
Dedicated Servers: $99.99/monthly
Ghost Hosting Platform #11: InterServer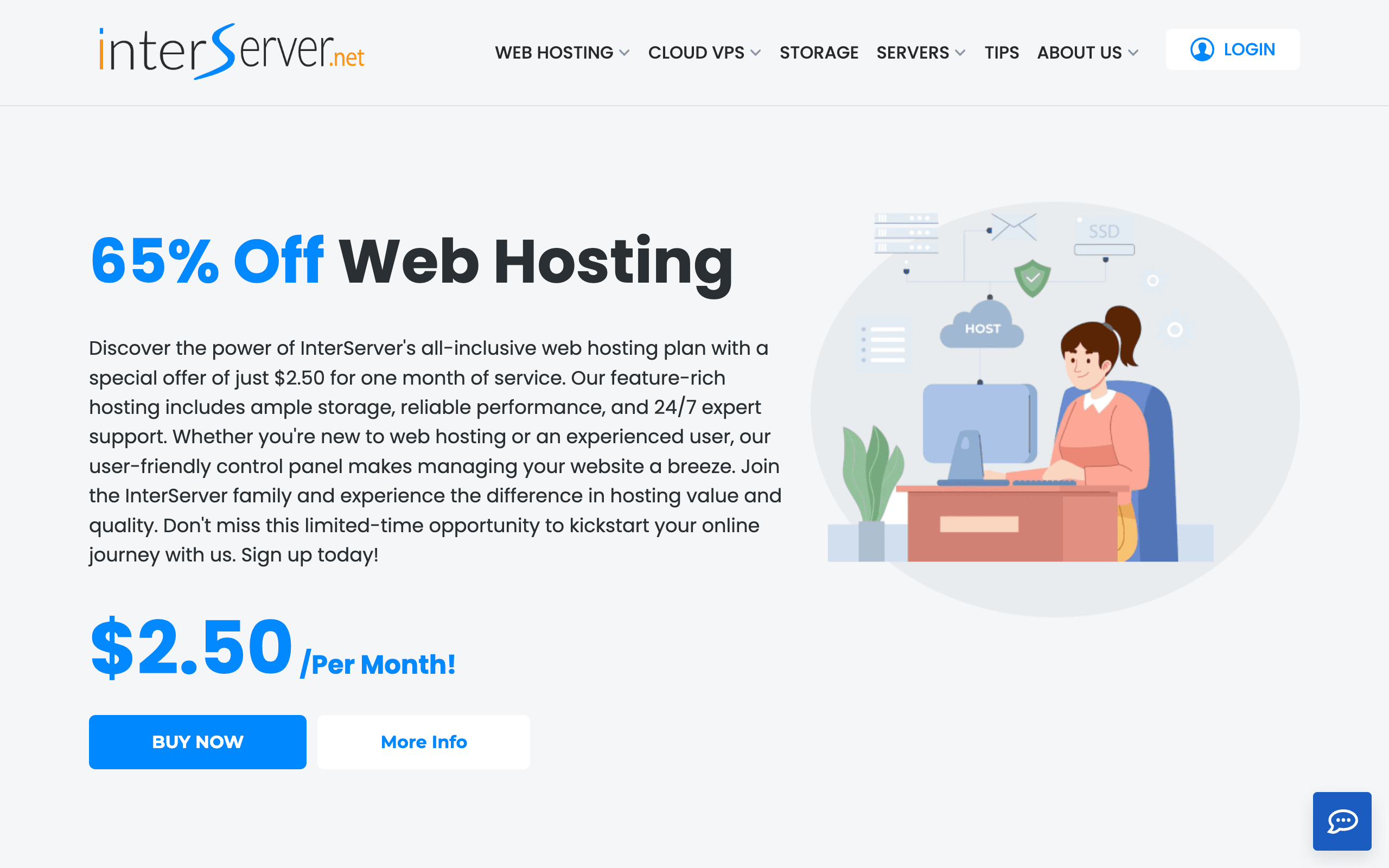 InterServer is a best Ghost hosting that offers different hosting options like shared, VPS and dedicated servers that allow people to have Ghost self hosted blogs and websites using these platforms. They provide powerful resources and fast speeds at affordable prices. Migrating over is a breeze and their support team is always ready to help. InterServer delivers great value for money if you're okay managing your own Ghost infrastructure. Beginners may want an easier hosted option but their resources and support make this a solid choice for DIY people. This is a great Ghost hosting platform for different purposes.
Key Features:
Unlimited storage, bandwidth and sites
Scalable VPS and dedicated options
Easy cPanel or Webuzo control panels
Free domain name for a year
24/7 phone and ticket support
99.9% guaranteed uptime
Flows Not Dealbreakers:
No one-click Ghost installs
Minor possibility of slow speeds during peak usage
Self-hosting requires technical know-how
Pricing:
ASP.NET Plan: $8.00/month
VPS Special Plan: $6.00/month
Dedicated Plan: Custom
Our Top Pick for the Best Ghost Hosting Platform
First of all, setting up a site with them is a cakewalk. Their signup process is simple and straightforward - just a few clicks and you're up and running. No messing with confusing technical stuff.

Once your site is live, Bluehost takes care of pretty much everything in the background. This means you don't have to stress over server updates, security patches, or anything technical. You can just focus on designing your site and adding content. Pretty sweet deal if you ask me!
Their plans also won't break the bank. You get tons of features for a low monthly price. No long-term contracts either, so you're not tied down. If your site grows, it's super simple to upgrade too.

Performance and speed is top-notch with Bluehost. Sites load lightning fast, which is important for visitors. Their servers must be beefy! Uptime is crazy reliable too, so your site will pretty much never go down.

Customer service is bomb as well. Whenever we've had an issue, their team has always been super helpful. Better than dealing with outsourced reps, you know?

Overall, Bluehost really takes the stress out of managing websites. For the price and features you get, they're one of our top picks hands down. Their ease of use seals the deal for sure.
Summed Up
Well what about covers everything you need to know about finding the perfect Ghost hosting solution!
Before starting your new Ghost blog, I'd encourage you to go check out their amazing selection of ready-made Ghost themes. Browsing through themes is a fun way to get inspired and help visualize what your blog will look and feel like.
Once you pick the perfect style for your content, you'll be up and running with your new high performing Ghost blog in no time.
Now go build an awesome blog!
FAQ
Does Ghost offer hosting?
Ghost web hosting itself does not actually offer hosting services, even though it is awesome for creating blogs and building websites. Ghost is purely the content management system (CMS) - it's the software that runs in the background and powers your site.But don't worry, hosting your Ghost blog is still quite simple. Some of our suggestions specialize in Ghost hosting. Shop around and see which one fits your skills and budget best!
How to host Ghost CMS for free?
One option is using a platform as a service (PaaS) that allows hosting web applications for free within limits. With a PaaS, they handle all the backend infrastructure so you don't have to deal with servers.
Another free alternative is utilizing a hosting provider's free trial to test out self-hosting Ghost. This lets you run your own virtual private server (VPS) for an initial period at no cost before fees begin if you keep it active.
The key is finding a Ghost CMS hosting option that fits your technical abilities and site needs within the free usage constraints before considering paid upgrades or different solutions if your site grows beyond free levels.
How much does Ghost self hosting cost?
If you go the DIY route and Ghost self hosting on a basic virtual private server (VPS), you can usually find affordable monthly plans starting around $5-10. VPSes give you full admin access over a virtual slice of a server, so they allow for self-hosting flexibility.
More powerful VPS plans with more CPU, RAM, storage and bandwidth will obviously be a bit pricier, perhaps $20-50 per month depending on specs. For heavy traffic sites, a dedicated server may be better which runs $50-100+.