Blogging has become really popular in recent years. More and more people are starting their own blogs to write about their interests, share thoughts and experiences, or build expertise in a topic. It's great that it's so easy to start a blog now.
But with so many blogging platforms out there, it can be hard to choose the right one. You want a platform that looks professional and is easy to use. You want one where you can focus on what you write instead of learning complicated website code.
This article will compare two big names in blogging platforms - Ghost and Squarespace. Both are popular choices for personal blogs and online magazines. We'll look at what each one is best for, and how they differ.
The goal is to help you decide which platform might work better for your blogging needs and dreams. Let's get started with our Ghost vs Squarespace comparison!
What Factors to Consider When Comparing Ghost vs. Squarespace?
When choosing a platform for your blog, there are several important things you'll want to consider. Here's a more detailed look at some key factors to consider when doing a Ghost vs Squarespace comparison:
Features: A good blogging platform should offer a wide range of features to enhance your content and readers' experience. Core features include post and page formatting options, commenting abilities, analytics to understand readership, categorization and tagging. Other useful features are media uploads, scheduling posts for later dates, e-commerce integrations if you sell products, and more. Consider which features fit your blogging goals when doing Ghost vs Squarespace comparison.
User Interface and Ease of Use: You want a platform that is intuitive to navigate and simple to use. Publishing new posts should be a breeze, not a hassle. Ensure the platform has a clean, logical interface that doesn't require advanced technical skills. Drag-and-drop editors and customizable themes help non-tech savvy users get the most out of their blog.
Themes and Templates: The look of your blog matters in attracting and keeping readers. Check if the platform provides fresh, professionally-designed templates you can use as-is or modify slightly. Or you may have more flexibility choosing a theme from their theme marketplaces. Mobile-friendliness is also key for readers on the go.
Performance and Speed: Load time heavily influences reader experience and retention. Fast platforms are preferable to sluggish ones. Consider factors like website speed optimization, image compression, and content delivery networks to prioritize speed. Hosting quality affects performance too.
SEO Tools: Search engine optimization helps new readers discover your content organically. Robust platforms offer built-in features for title and meta description auto-generation, XML sitemaps, and more. Some integrate SEO optimization directly into the editing interface.
Addons and Integrations: Look for platforms with available third-party integrations like social sharing tools, mailing list plugins, member areas, and e-commerce services. Integrations save time and effort. Consider your needs for things like email newsletters now or in the future.
Security and Updates: Regular platform and plugin updates mitigate vulnerabilities, so make sure the vendor has a strong security and update process. Your readers' data protection matters.
Support: Excellent, responsive customer support is important in case you encounter any issues, especially as a beginner. Compare support channels like ticketing, forums, tutorials, and phone/chat assistance.
Pricing: Pricing models vary significantly. Review packages and their feature inclusions to find the best offer for your current and anticipated budget. Ensure costs make business sense long term.
Comparing platforms on all these dimensions will point you toward the most appropriate home for your website or blog project.
Overview: Ghost vs. Squarespace
Ghost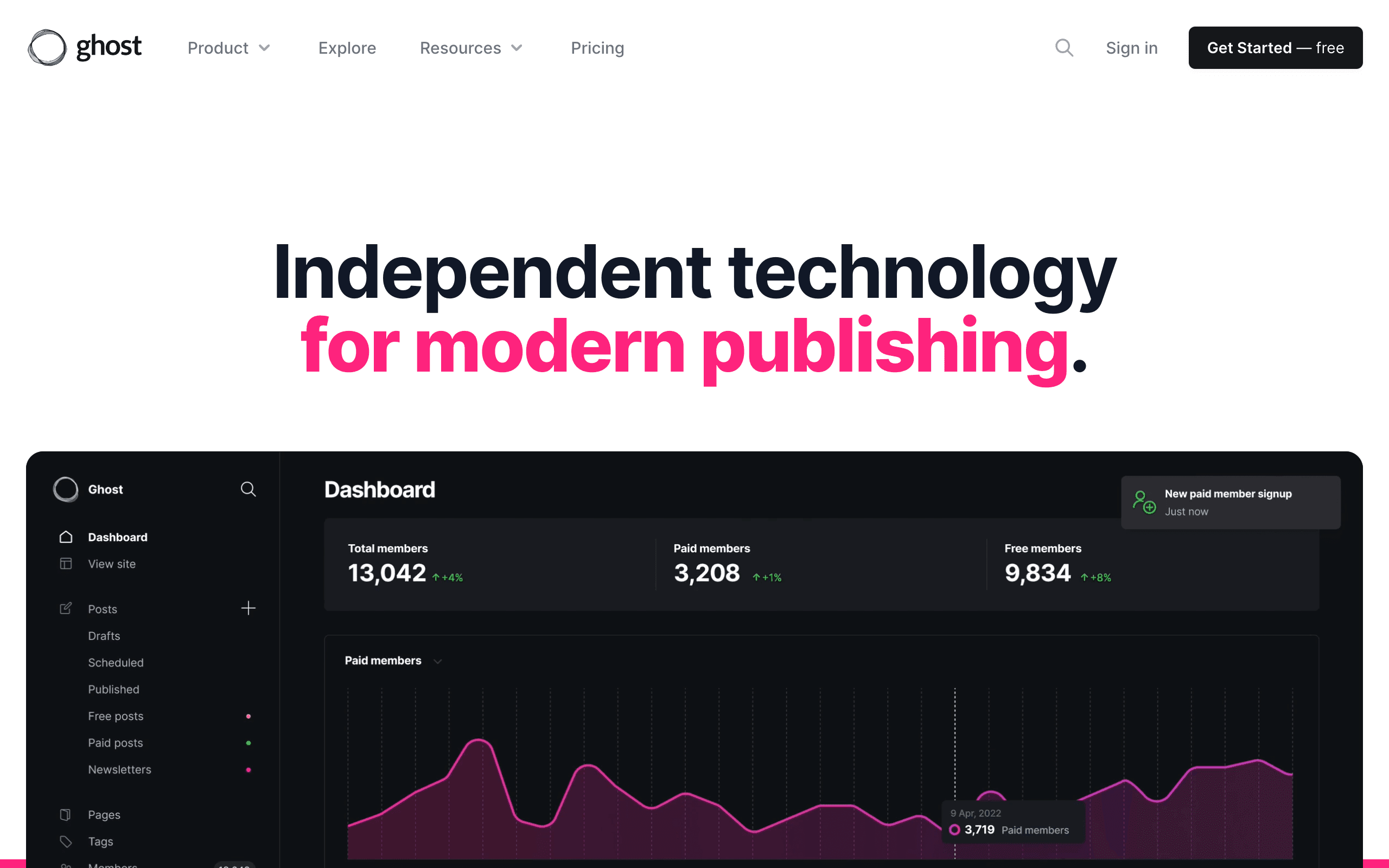 If we want to know which is better Ghost or Squarespace, we have to begin with a general overview of both. Ghost is a popular blogging platform that has gained a lot of fans over the years. At its core, Ghost is focused solely on blogging - it's meant for publishing content, not other types of websites.
Some cool things about Ghost - it's completely open source, which means anyone can help contribute to its code and help Ghost improve. The platform is also super lightweight and fast loading. Your readers will thank you for that!
With Ghost, you get a clean, distraction-free editing interface that's built for writers. They have plenty of theme and customization options too if you want to jazz up your blog's look and feel. Ghost also has great built-in SEO features to help more people discover your words of wisdom.
Publishing on Ghost is simple - you can write in Markdown or rich text formats. There are also apps you can add like newsletter signup forms. Features like tags and categories help readers find what they're looking for. Best of all, all the basic features are included for free in the open source version.
Squarespace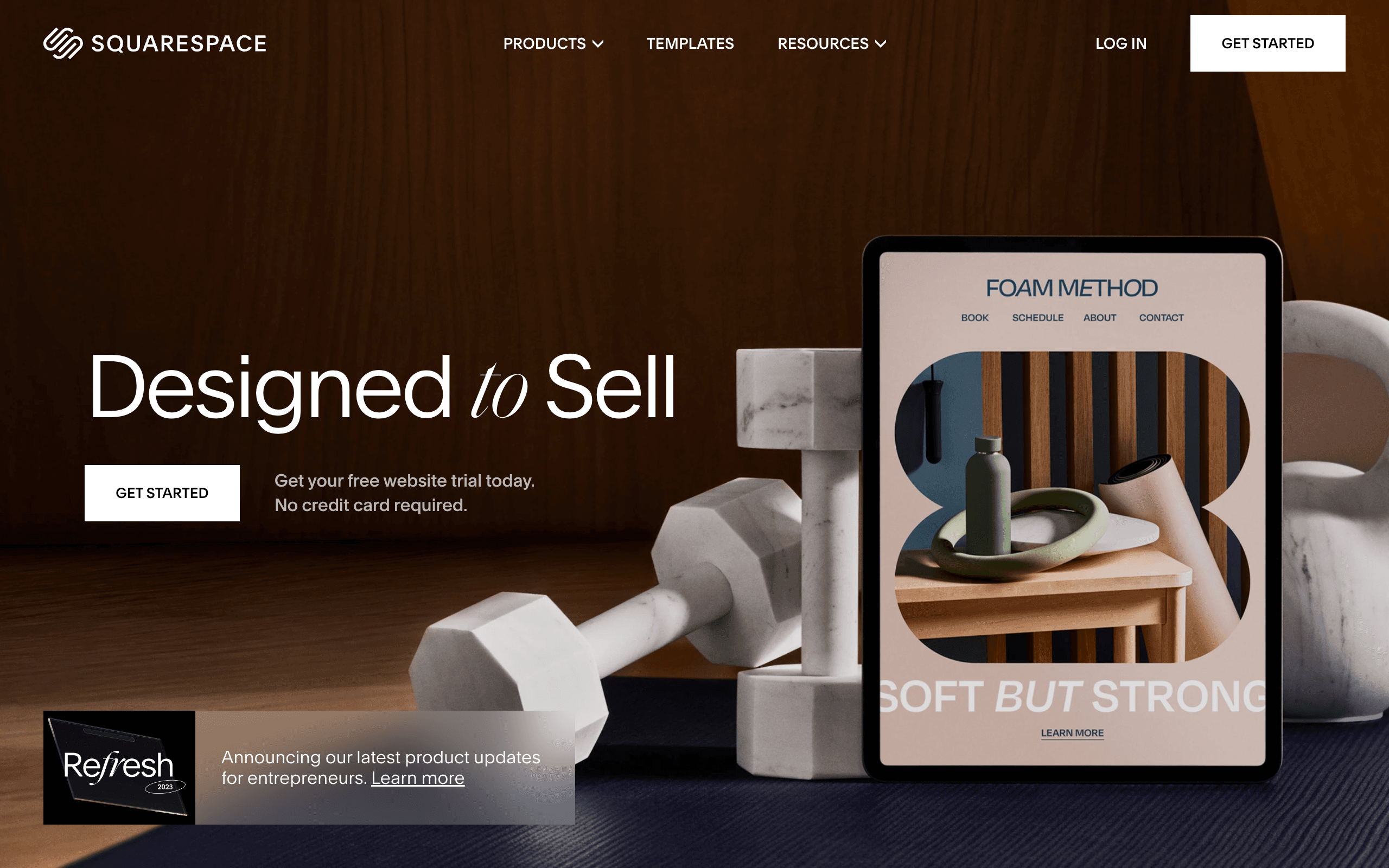 Squarespace is one of the big names in website building these days. While you can certainly create blogs on Squarespace, its real strength is designing professional looking websites for businesses, artists, and other types of online projects beyond just blogging.
Setting up on Squarespace is super simple - they have beautiful pre-built templates you can just plug your content into. No design skills or coding needed. The templates are also responsive, which means your site will look great on phones, tablets, and computers.
For blogging, Squarespace makes it easy to schedule and manage posts. Their rich text editor gives you plenty of formatting options without being overwhelming. You can publish with images, video, and other multimedia too.
Where Squarespace really shines is giving you a polished, good-looking site right out of the box. Their templates have amazing visual designs. When comparing Squarespace vs Ghost, Squarespace is perfect if you want an online presence that looks more like a business than a personal blog.
Top Features: Ghost vs. Squarespace
Ghost Features
Clean, distraction-free writing interface
Robust formatting tools for headings, paragraphs, lists etc
Full post organization with categories, tags and archives
Powerful SEO features like XML sitemaps
Granular access control and user permissions
Advanced customization via themes and plugins
Live updating of content with automatic deploys
Detailed analytics and statistics dashboard
Built-in support for code snippets and GitHub
Blazing fast load times and optimized performance
Robust API for developer access and automation
Squarespace Features
Stunning, beautifully designed website templates
Fully responsive templates for any device
Sophisticated page builder with layout controls
Integration for forms, contact pages, calendars
Robust scheduling tools for posts and events
Advanced media gallery features
Commerce features for selling products and services
Integrations with social profiles and analytics
Powerful SEO optimization in templates and code
Password protected pages and membership areas
Mobile app for managing content on the go
Intuitive team collaboration and permissions
Winner
If we compare the Ghost vs Squarespace features, both platforms are great choices but serve different purposes. Ghost is best if you value full control and customization. Squarespace is ideal if you want an eye-catching site without technical skills.
For bloggers focused on content alone, Ghost's flexibility gives it the edge. So, Ghost is a win here, if you want to build a blog specifically and based on our Squarespace vs Ghost comparison. Now you know which is better Ghost or Squarespace, in term of key features, and can decide what fits your needs better.
User Interface: Ghost vs. Squarespace
Ghost User Interface
The Ghost interface is clean and simple. When you log in, you'll see your dashboard which shows your writing workspace and all your blog management tools. The editing screen is distraction-free so you can dive right into writing and publishing content without any clutter getting in the way. You have basic formatting options right there to style headings, paragraphs, lists and more. It's really easy to add images straight from your computer too. On the left sidebar, you can organize your posts using categories and tags to help readers find topics. The Ghost interface stays minimal so blogging is a breeze.
Squarespace User Interface
With Squarespace, if we compare Squarespace vs Ghost, you get a very visually-oriented interface that gives you power over both content and design. When creating new pages, you enter the block editor which allows you to build out page layouts by simply dragging and dropping different elements where you want them. You don't need any coding knowledge - just point and click. In each block, style options are available right in the editor so you can change fonts, colors, alignments and more before publishing. Squarespace also lets you preview how your pages will look on mobile phones versus tablets or computers. This is super handy for making sure your site looks great no matter how folks access it. With Squarespace, visual designing is part of the blogging process.
Winner
For solo bloggers who want an interface that gets right to the writing, Ghost's minimalism is perfect. Ghost, according to our Ghost Squarespace comparison, is simpler for basic blogging needs. Squarespace is great for folks who want total visual control over elements like headers, galleries, and other sections when building pages. So it comes down to your specific site-building approach and goals. Both are intuitive, just in different ways.
Themes and Customizations: Ghost vs. Squarespace
Ghost Themes & Customization
Ghost has a large selection of free community-built themes you can easily install to change the look of your site. Many are highly customizable too. You can modify themes easily by editing simple code files. Ghost also has an active app marketplace where you can add extra functionality through plugins and integrations. This gives you a ton of flexibility to tailor Ghost themes to your preferences.
Squarespace Themes & Customization
With Squarespace, you choose from professionally designed templates created by Squarespace designers. Templates come with different style options that let you tweak colors and fonts, but you can't modify code files. So, comparing Squarespace vs Ghost, Squarespace doesn't have a plugin system either. The block builder lets you customize page layouts, but design changes are limited without code knowledge.
Winner
Ghost is the better pick if you want to personalize your site's design through themes and plugins. Squarespace provides polished templates, but customizing beyond surface settings requires outside coding.
For ready-made designs, as our Ghost Squarespace comparison shows, Squarespace has you covered. But Ghost is more customizable for tweaking designs long-term or adding new features without limits, if we compare the Ghost vs Squarespace flexibility of customization.
Security and Updates: Ghost vs. Squarespace
Ghost Security & Updates
As an open source platform, Ghost benefits from constant security audits and improvements by its active community of developers. Ghost will automatically install any major core updates in the background to keep your site protected. However, security for third-party themes and plugins depends on individual developers to release patches. Certain technical know-how is helpful to fully understand Ghost's security processes like proper server hardening. That said, being open source means many experts are always reviewing Ghost's code. More technical users who want complete control may prefer Ghost's transparent approach.
Squarespace Security & Updates
Squarespace handles all the technical heavy lifting and security behind the scenes so you don't have to worry about it. Their sites are constantly monitored by an in-house team and automatic updates are seamlessly installed without any action needed from you. Built-in security features include DDoS protection, automatic HTTPS encryption, two-factor authentication, and more. You don't have to think about application updates, server maintenance, or patching vulnerabilities - comparing Squarespace vs Ghost, Squarespace takes care of everything. This allows you to focus solely on your content while knowing your site is protected by experts. Regular audits also help Squarespace stay on top of emerging threats.
Winner
Comparing Ghost vs Squarespace, for a true do-it-yourself experience with full transparency over updates and security practices, Ghost's open source nature provides more technical control and customization. However, the hands-off nature of Squarespace's automatic maintenance means you don't have to concern yourself with back-end security tasks and can publish content carefree. All we can conclude from our Ghost Squarespace comparison is that while both maintain high security standards overall thanks to their different approaches, Squarespace has the edge for simple, hassle-free security.
Performance and Speed: Ghost vs. Squarespace
Ghost Performance
Ghost is lightning fast because it's optimized for speed right out of the box
Built using modern JavaScript frameworks like Express and Handlebars
Ghost automatically optimizes images on the fly for faster loading
Advanced users can configure caching, CDNs and other optimizations
Highly customizable theme system leads to leaner code than Squarespace
Squarespace Performance
Sites run on Squarespace's high-performance global infrastructure
Templates minimize page load times through built-in optimization
Automatic asset compression and caching happens behind the scenes
CDN delivery and HTTP/2 support for faster worldwide access
Squarespace scales well under heavy site traffic loads
Winner
When it comes to site speed and performance, Ghost is definitely faster than Squarespace. That's because Ghost hosting is designed from the ground up to load pages lightning quick, especiaflly if you update Ghost regularly.
Since Ghost sites are just raw code files, it tosses out any extra flashy stuff that could slow things down. This means your Ghost blog boots up in the blink of an eye, taking into account the Ghost vs Squarespace comparison. Everything loads super snappy for readers.
Support: Ghost vs. Squarespace
Ghost Support
Ghost has online docs covering setup, publishing and themes/plugins. Their community on Discourse forum is very active—other users frequently answer questions. For paid support, Ghost offers a Premium plan for faster assistance. However, it's not 24/7 dedicated support.
Squarespace Support
Comparing Ghost vs Squarespace, with Squarespace, you get great onboarding resources like written guides and tutorial videos. Their customer support is top-notch, with dedicated agents available 24/7 via phone, email and live chat. Squarespace takes the headache out of self-troubleshooting. They also offer one-on-one coaching sessions for advanced help.
Winner
While Ghost has helpful community support, nothing beats Squarespace for timely, expert assistance how and when you need it. Between their extensive resources, speedy responses and even phone assistance, comparing Squarespace vs Ghost, Squarespace gives you peace of mind that issues will be fixed quickly.
The support experience is really the only area Ghost can't match Squarespace. So in this Ghost Squarespace comparison, Squarespace wins for novices who want reliable, white-glove guidance whenever an issue arises.
Pricing and Budget Considerations: Ghost vs. Squarespace
Ghost Pricing
Ghost offers an open source free plan that lets you get started without cost. Their most basic paid subscription is $9/month and includes extra features like unlimited storage. You can also run Ghost yourself by purchasing a license. Self-hosting may end up cheaper over time but requires tech know-how.
Squarespace Pricing
Squarespace has three basic plans starting from $16/month with more domain options and storage included. Paid features like online stores and custom domains add costs. However, all plans come with that white-glove support and hosting, so you don't pay extra for those. No tech skills are required either.
Winner
If we compare Ghost vs Squarespace, Ghost is very affordable, especially for solo bloggers and small businesses. However, Squarespace remains the simpler choice for those wanting an all-in-one solution without much tech work. But you might find Ghost more beneficial for your blog, considering the price and functionality.
So, in this Ghost Squarespace comparison, we conclude that overall it depends on your budget and needs. Both have very fair pricing models for their capabilities.
Which is Better Ghost or Squarespace?
There is no universal answer to the question of which is better Ghost or Squarespace. Ultimately, choosing between Ghost and Squarespace really comes down to your specific blogging needs and preferences. Both platforms offer solid options for building an awesome website without too much technical hassle.
If finding the perfect design and customizable features is important, Ghost may be a better fit. Its huge selection of free community themes means you can truly make your blog unique by tweaking to your heart's desire. So, if we rely on our Squarespace vs Ghost comparison, whether you want a simple layout or fully customized funky style, Ghost gives you the power to express yourself through design.
So in the end, comparing Ghost vs Squarespace, both are great choices depending on what matters most to you. But Ghost's extensive themes library allows you to truly acquire different beautiful designs and get the ideal look and functionality for your blog.
FAQ
Is Ghost better than Squarespace?
It depends. There's no simple answer of which is definitively better - they each have their strengths. Ghost might edge out Squarespace for customizability thanks to its huge selection of free themes. But Squarespace remains a solid option, too. Ultimately it depends on your specific blogging needs!
Is Squarespace more expensive than Ghost?
Ghost is definitely cheaper than Squarespace up front since their basic plans start free. But the do-it-yourself nature of Ghost means you may end up spending more over time on hosting fees or technical support costs compared to Squarespace's all-inclusive pricing.
Which platform is better for SEO: Squarespace or Ghost?
Both Squarespace and Ghost can work well for SEO, but Ghost may have a slight edge. As an open source platform, Ghost gives you more control over things like tags, descriptions and metadata. This allows you to really optimize individual posts for search. Squarespace's drag-and-drop interface takes care of basic on-page SEO factors automatically. But advanced users who want to micro-manage things like keywords or do technical SEO tweaks have more options with Ghost. Which is better Ghost or Squarespace depends on your needs.