If you are thinking about starting a blog, you've probably come across two popular names - WordPress and Ghost.
More recently, Ghost has emerged as a compelling alternative to WordPress, especially for solo bloggers and small businesses.
While both WordPress and Ghost allow you to put your thoughts out on the internet, it's important to choose the right blogging platform so you can spend more time writing instead of troubleshooting technical issues.
The platform you select will heavily influence how easily you can update and customize your blog, as well as choose themes, plugins and integrations.
In this article, we give you the Ghost WordPress comparison in detail so you can feel confident about the best fit for your new blog. We break down their key differences, like self-hosted versus hosted options, customizability, and learning curves.
By the end, our comprehensive comparison will help you make an informed decision if WordPress vs Ghost is better for your needs and goals as a blogger.
What Factors to Look for in Blogging Platforms?
When shopping around for the right home for your blog, there are some important things to keep in mind. Let's break down the Ghost vs WordPress factors we will consider:
Features: When starting a blog, it's good to think about what tools you might need down the road. Will you be writing posts, adding photos, embedding videos, creating pages? Make sure the platform offers common blogging features out of the box like these. Extra ones like comments, analytics, newsletters are also handy.
User Interface and Ease of Use: As a blogger, you'll be spending a lot of time in the backend creating and managing content. Choose a platform with an intuitive dashboard that's easy to navigate, even if you're new to blogging. Consider how simple basic tasks are to do.
Themes and Templates: A good theme is key to presenting your blog well. Check that the options available suit different niches and device views. It's great if you can customize further without coding skills.
SEO: Search engine optimization is important for growing readership. Factors like XML sitemaps, meta tags and optimized permalinks can boost your blog's SEO. Ensure the platform SEO tools meet your needs.
Addons and Integrations: Extra functionality comes through plugins/apps. Consider common integrations like email marketing, analytics, ecommerce etc. A wide selection keeps your blog flexible as needs change.
Security and Updates: With any action online, security is very important. Look for platforms with regular security patches and two-factor authentication. Automatic updates make sure you're always running the latest versions.
Performance and Speed: Slower load times can negatively impact user experience. Make sure the platform is optimized to offer fast performance on different connection types.
Support: No one is an expert at everything. Support and documentation helps a lot when you have issues or questions. Consider support options from free to paid.
Pricing Plans: While some platforms are free, you might need paid plans as your blog grows. Make sure any costs are clear upfront and offer value as your needs change over time.
Overview: Ghost vs. WordPress
What is WordPress?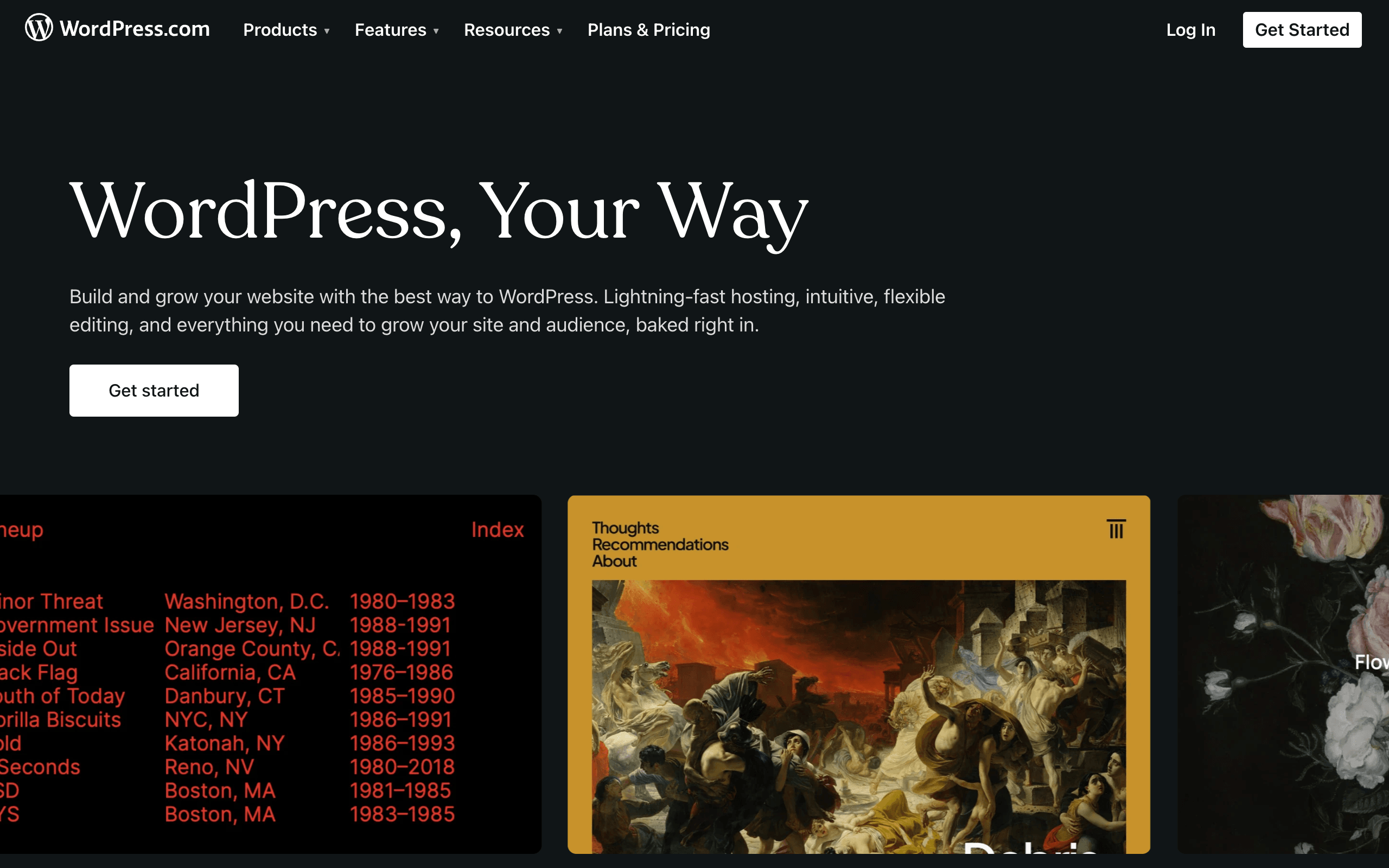 So, let's break down the general overview of WordPress vs Ghost. WordPress is one of the most popular blogging platforms out there. In fact, it powers over 34% of all websites according to some stats. That's a huge chunk of the internet!
At its core, WordPress is a free and open-source content management system. This means it allows you to easily create and manage website or blog content without needing to know any complicated coding.
You can get WordPress for free to self-host on your own domain or website hosting account. This gives you full control over the backend and all the technical stuff. But WordPress is also offered as a hosted solution through WordPress.com which takes care of the hosting for you - you just focus on writing.
What is Ghost?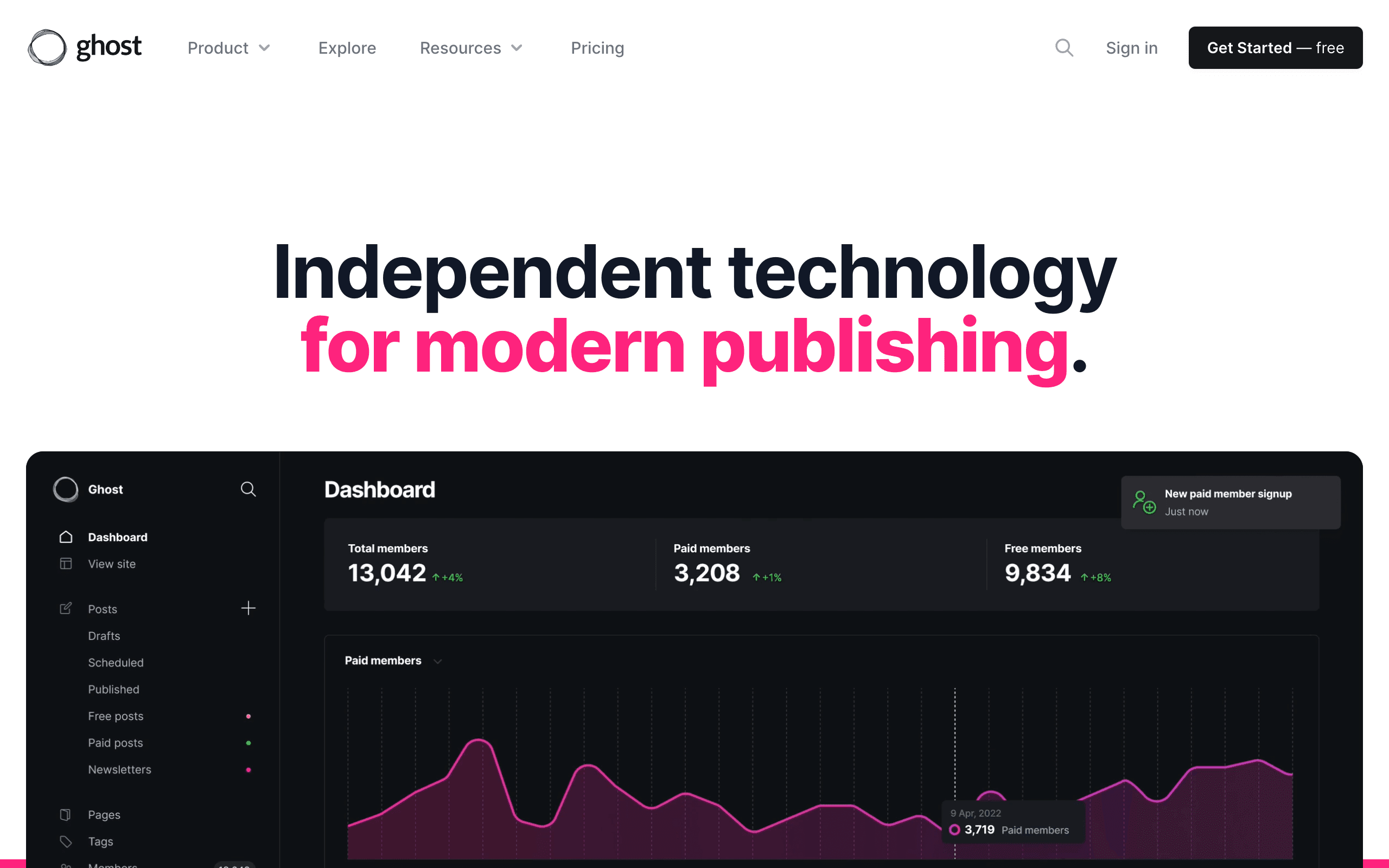 Ghost is another popular blogging platform that's been gaining steam in recent years. While it may not have the same household name recognition as WordPress, comparing Ghost vs WordPress, many avid bloggers have switched over to Ghost.
Unlike WordPress, Ghost was designed specifically for blogs rather than general websites. Its clean, minimal interface focuses solely on creating amazing reading experiences for your blog audience.
Additionally, if we compare WordPress vs Ghost, Ghost also takes a different approach than WordPress by only offering a hosted blogging service through their website Ghost.org. This means they handle all the technical backend stuff for you on their secure servers. So this Ghost WordPress comparison shows that, as a hosted service, Ghost prioritizes being really simple to use.
Features: Ghost vs. WordPress
WordPress Features
Posts: Create multiple posts and organize with categories and tags.
Pages: Build various permanent sections like About, Contact etc.
Comments: Allow readers to discuss and interact on posts.
Media Library: Upload images, videos, documents to use across content.
SEO Tools: Configure metadata, sitemaps and permalinks for search optimization.
Themes: Apply professional designs with multiple layout and color options.
Plugins: Expand capabilities easily with thousands of plugins for features like forms, security, ecommerce etc.
Customization: Extensive options to modify themes, menus, widgets and more with code knowledge.
Ghost Features
Posts: Write blog content and organize with tags.
Pages: Generate one-off landing pages.
Tags: Categorize posts for easy browsing.
Editor: Minimal interface focused on distraction-free writing.
Publish Workflow: Schedule posts and add cover images.
Analytics: Track readership with integrated usage stats.
Memberships: Offer paid or free member tiers with login access.
Apps: Expand with popular apps like newsletter signup in the Ghost Store.
Performance: Lightweight and optimized loading for all devices.
Winner
So, if comparing Ghost vs WordPress in terms of features, for sheer range of stock and extendable features, WordPress is pretty good. Its vast library of plug-ins and options let you customize a highly functional blog. However, if you prefer something more streamlined right away, Ghost's leaner feature set may suit you better depending on needs. WordPress flexibility comes with more learning curve too. So, Ghost is the winner in this Ghost WordPress comparison because it is specifically designed for blogs.
User Interface and Ease of Use: Ghost vs. WordPress
WordPress User Interface
The WordPress dashboard has a busier, more packed interface with lots of options and menus. It takes some learning to navigate where everything is located. On the plus side, this means WordPress is highly customizable with widgets, panels and metaboxes to tweak. The tradeoff is it can feel complex, especially for new bloggers.
Ghost User Interface
Comparing WordPress vs Ghost, the Ghost admin has an ultra-clean, minimal design that only shows relevant options for writing and management. There are no sidebars or extra widgets to distract from content creation. This simplified interface is very easy to use right away even for beginners. However, customization abilities are more limited without code knowledge compared to WordPress.
Winner
For sheer simplicity and ease of use straight out of the box, Ghost has the better user experience here. Its focus solely on writing makes for a very streamlined interface. However, if you like full tweaking capabilities, WordPress is more customizable once you learn your way around. For bloggers prioritizing speedy content creation, Ghost may be a smoother choice.
Themes and Templates: Ghost vs. WordPress
WordPress Themes and Templates
WordPress has thousands of free and premium themes to completely change the look of your site. You can also edit template code directly for unlimited customization. Themes are highly customizable through backend options as well. This wide variety caters to any blogging niche or personal style.
Ghost Themes and Templates
Ghost themes have simpler, cleaner designs optimized for blog reading. There are fewer free theme options to pick from but the basics cover different styles. Templates can't be edited directly and customization is limited to colors and fonts without programming. Ghost updates are seamless since themes don't break.
Winner
So, according to our Ghost WordPress comparison, WordPress has enormous selection of super customizable themes to perfectly match your blog vision. However, Comparing Ghost vs. WordPress, Ghost's fewer options are easier to manage overall without advanced coding. For visual flexibility, WordPress is best but Ghost is simpler for non-tech bloggers wanting speedy stylish sites. Both work well depending on needs.
SEO: Ghost vs. WordPress
WordPress SEO
XML Sitemaps: Generate sitemaps to inform search engines of content.
Permalinks: Configure human-readable URLs linking posts and pages.
Meta Title Control: Set custom optimized titles for better click-through.
Meta Description: Add descriptions that display in search results.
Inbound Link Analysis: Check where backlinks are coming from.
Keywords Analysis: Find optimal keywords to target.
Image SEO: Add alt text descriptions for images.
404 Page Redirection: Redirect errors to prevent lost traffic.
Ghost SEO
Permalinks: URL structure optimized for search ranking.
Meta Titles: Generate titles automatically from headings and words.
Meta Descriptions: Descriptions added based on content excerpts.
XML Sitemaps: Sitemaps integrated for crawler accessibility.
RSS Feeds: Validate and optimize syndication channels.
Tags: Help search engines understand content topics.
Image SEO: Add alt text descriptions in editor.
Content Keywords: Analyze top keywords from existing content.
Winner
Ghost blog SEO streamlines best practices into everyday writing. The average blogger gets great search visibility from Ghost without technical learning, so it wins here. For do-it-yourself SEO power users, WordPress functionality is more robust. So, comparing Ghost vs WordPress, both achieve solid optimization, but Ghost simply excels for ease without sacrificing effectiveness.
Addons and Integrations: Ghost vs. WordPress
WordPress Addons and Integrations
With thousands of plugins, WordPress lets you add any feature imaginable like analytics, ecommerce, mailing lists and more. Quality plugins integrate deeply. Downside is some cause conflicts or slow sites down. Work involved to keep plugins updated and secure.
Ghost Addons and Integrations
The Ghost store provides integration apps for tools like Mailchimp, Google Analytics and Jetpack backup. Selection isn't as vast as WordPress but apps link securely and won't impact performance. Automated updates prevent compatibility issues. Comparing WordPress vs Ghost, it's easier for non-tech blogs to bolt-on services.
Winner
If we compare Ghost CMS vs WordPress, for sheer scope of options, nothing beats WordPress extensions. But many bloggers don't need that much. Ghost integrations cover key services without technical overload - the tradeoff is more limited selection. Overall, if we compare Ghost vs WordPress, experienced users wanting full personalization should plug-in to WordPress. Ghost has the edge for beginners wanting simple integrations notcore to blogging.
Security and Updates: Ghost vs. WordPress
WordPress Security and Updates
WordPress itself is usually pretty secure but self-hosted sites are owners' responsibility to keep core, themes and plugins fully patched. Manual updates required along with malware scans. Potential for out-of-date software vulnerabilities if not diligent.
Ghost Security and Updates
All hosting and security managed by Ghost team so no user maintenance needed. Automatic background updates for seamless fixes. Ghost shields sensitive data behind additional authentication for highest protection. Worry-free for busy bloggers.
Winner
While powerful, self-managing WordPress security requires technical know-how and ongoing work. But if we compare Ghost vs WordPress, Ghost takes the task fully off users' plates through automatic protected updates - a clear win for set-it-and-forget ease and peace of mind. So, this Ghost WordPress comparison shows that WordPress can be secured but demands more time, Ghost simply ensures protection so writers focus on writing instead. Ghost has a win here.
Performance and Speed: Ghost vs. WordPress
WordPress Performance and Speed
Can become slow over time from multiple plugins running.
Theme and code quality affects loading times.
Self-hosting means server hardware impacts performance.
Caching plugins help but require technical setup.
Ghost Performance and Speed
Built specifically for speed with lightweight code.
Simple templates avoid unnecessary resources.
Expert servers maintain top response rates at all times.
Loads impressively fast across devices and networks.
Winner
For instant gratification without delay, Ghost is undoubtedly faster right off the bat. But experienced WordPress visitors can achieve competitive speeds too with proper configuration and server optimization. Most bloggers will appreciate Ghost's seamless performance without effort or technical skills required on their part for an enjoyable reader experience.
Support: Ghost vs. WordPress
WordPress Support
If we compare Ghost vs WordPress, WordPress is very popular so there are lots of online communities to ask for help like forums and Reddit. But it depends on the themes and plugins too since they have their own support. Answers might take awhile since it depends on how many people see your question. You can pay for some plugin/theme support direct but quality will be different. For big problems, you'd have to hire someone to fix it.
Ghost Support
So, comparing Ghost vs WordPress, Ghost has their own support team you can contact directly if you pay for their plans. Comparing Ghost CMS vs WordPress, you send them a message called a ticket and they will answer usually the same day during regular working hours. An expert from Ghost will help solve your problem. They also have docs and an online community forum to check for answers or ask questions.
Winner
WordPress has a massive number of places to ask but answers might be slow and quality depends on who answers. If issues are specific to a commercial theme or plugin, most developers provide email or ticketing support for their products. Contact information is included with the purchase. So considering Ghost blog vs Wordpress blog support options, WordPress has a win here.
Pricing Plans: Ghost vs. WordPress
WordPress Costs
Comparing Ghost blog vs Wordpress pricing options, WordPress is free to download and use on your own site but you have to pay for hosting, either on your own server or through a hosting company. Some hosts have WP installed for a low monthly or annual fee. No paid WordPress plans.
Ghost Costs
So, comparing Ghost vs WordPress, Ghost offers affordable Personal and Business plans starting at $7.99/month. These include features like unlimited storage, spam filtering and priority support. They handle all hosting costs so you only pay one low price per month or year without server maintenance headaches.
Winner
So, according to our Ghost CMS vs WordPress comparison, while WordPress itself is free, you'll spend more on separate hosting over time. But if we compare WordPress vs Ghost, Ghost removes that headache with competitive all-inclusive monthly/annual subscriptions that manage everything. For simple hassle-free blogging without server costs, Ghost is easily the better value. WordPress self-hosters save but spend more time/money managing infrastructure.
WordPress vs. Ghost: Which One is Better for Blogging?
In the end, both WordPress and Ghost are great CMS platforms. It really comes down to your specific needs and what matters most in a blogging site.
WordPress is extremely customizable and flexible, so it works well if you need lots of features or want full control over customization. But it requires more technical know-how.
If comparing Ghost blog vs Wordpress blog, Ghost focuses solely on blogging and tells stories in a simple, beautiful way. The automatic updates and great security make it very low maintenance too. It's perfect if you just want an easy platform to share your thoughts and writing.
Comparing Ghost CMS vs WordPress, we'd recommend Ghost for most bloggers. It removes all the headaches so you can spend your time doing what matters - creating engaging content.
To help make your Ghost blog look amazing, we've crafted beautiful Ghost themes that are optimized specifically for blogging layouts and storytelling. They're designed to make your writing shine.If you need to update Ghost blog, fresh theme is also a good way.
So if you're looking for an easily accessible blogging platform and if we make a choice comparing Ghost blog vs Wordpress, you should give Ghost and its themes a try. We think it's the best option for sharing your ideas with the world and letting your creativity flow freely without technical barriers.
FAQ
Which is better Ghost or WordPress?
Both WordPress and Ghost are great options but Ghost is better for blogging specifically. It's fast, jaw-dropping secure and so easy to use. With Ghost, you won't have to mess with servers or coding - you can spend time writing instead of fixing tech stuff. Comparing Ghost CMS vs WordPress, Ghost is the perfect choice if all you want is a simple platform to share your stories.
Is Ghost faster than WordPress?
Yes, Ghost is faster than WordPress. It's built specifically for speed so it loads instantly, even on slow connections. WordPress can bog down over time from plugins. So, comparing Ghost blog vs Wordpress, Ghost stays super snappy because it doesn't have extra stuff slowing it down.
Does Ghost work with WordPress?
No. They don't actually work together directly, even though Ghost and WordPress are both content management systems. Ghost uses its own architecture and WordPress uses PHP/MySQL. You can't take a WordPress site and easily move it over to Ghost or anything. They're separate platforms. So in short - no, they do their own thing.